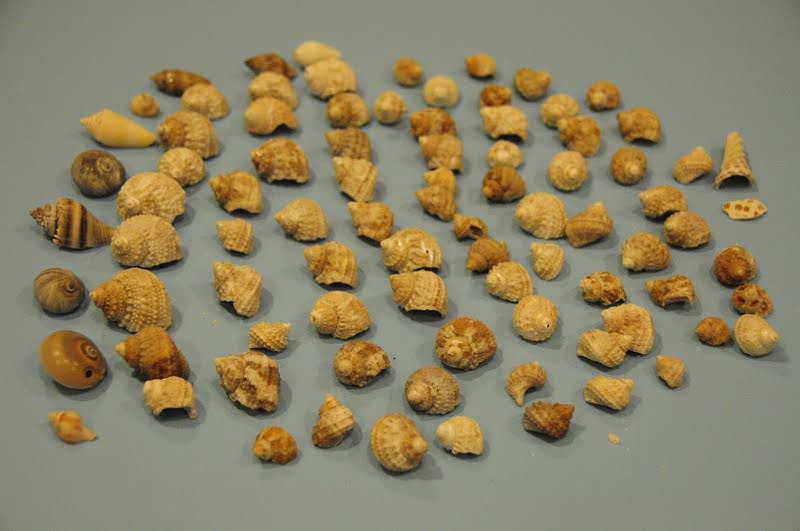 06 Jul

New Discoveries and First Finds

I have not been north of Boca Grande in months and felt the need to travel and explore islands to the north. The thought occurred to me while on the trip with the Florida ladies. They talked about fossils and a particular coral that I have had on my list of things to find since observing a beautiful piece at the shell fair – Agatized Coral. This is the Florida state stone.  Agatized Coral occurs when ocean water hardens replacing the limy corals with a form of quartz.  This process takes 20-30 million years.  Three locations in Florida are known to have this type of coral.  I was lucky enough to receive a recommendation from one of the Florida ladies on a possible location to explore and search for Agatized Coral on an island originally known as Hog Island which is located 3 hours north of Cayo Costa.
So, the story begins early Sunday morning, armed with an empty 5 gallon bucket and 3 Publix shopping bags in search of Agatized Coral.  I began a 2 1/4 mile walk to the north end of the island.   I made it 5 steps before I found 5 Turban Shells.  I knew right then, this was going to be a long walk.  I continued to discover more and more Turban Shells until I told myself, "stop!".  So, I did for a while as I kept trekking down the beach with my bucket in hand.  I finally made it to the northern tip where I hoped to discover Agatized Coral, but much to my surprise, while cooling off in the water and randomly grabbing shells, I felt something unique that I knew was an unusual find for me.   Not long ago, someone had given me a handful of these particular shells and told me they were "mermaid tears" from a private collection but they didn't know where they were collected.  I had no idea that you could find these in the United States. Now, I was holding one in my hand. I scanned the beach, and much to my delight, I found more. When I arrived home, my interest was peeked, so I researched a little on "mermaid tears" and found out these small shells are known as Shiva Shells and hold the door (Operculum) to the Turban Shell.  The Shiva Shell has been known to symbolize the flow of life, constant change of the universe and creative visualism in the Hindu world.  Some of the largest Shiva Shells are 5 inches in diameter.  Wouldn't that be a find?  There's always tomorrow and more beaches.
The tide receded on my walk back and I focused more on the rock formations on the beach.  This is when I discovered a small piece of Agatized Coral and other fossilized rock formations.  My bucket was heavy and my tracks were deep in the sand as I made my final steps off the beach.