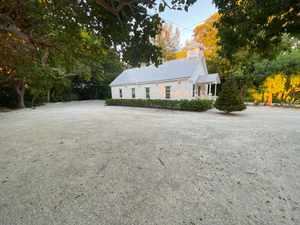 26 Jan

Captiva's Chapel By The Sea

Mar 09, 2021 08:24PM ● By CAPT. BRIAN HOLAWAY
The barrier islands of Southwest Florida are dynamic and ever changing. One thing that has remained the same on Captiva Island is a small structure in a picturesque setting adjacent to the beach that has been a gathering place for more than a century. It started out as a one-room schoolhouse and is now known far and wide as Chapel by the Sea.
The original structure, measuring just 20 by 30 feet, was erected in the early 1900s by Lee County to be a school. It was built on land donated by one of the island's early homesteaders, William Binder. The property today is on Chapin Lane, near the Captiva Library and adjacent to Captiva's historical cemetery.
The one-room schoolhouse, like many during this period, doubled as a place of worship. Services were held about once a month when congregants were able to find a traveling preacher. The building ceased housing the school in 1917 when it merged with the nearby Wulfert school, not far from Blind Pass on Sanibel, where the Captiva students then traveled for classes.
The school/church building had suffered a lot of storm damage over the years, including the hurricane of 1921, which split Captiva from what is now North Captiva. It was repaired with great effort from the people of the island, led by Hattie Gore, Captiva's postmistress. Later that  year it was sold to the Methodist Conference, which continued to run it for a time as Wayside Chapel.
The Methodists abandoned the property and the building went unused until mid-century, when a group of Captiva residents purchased it. They enlarged and remodeled the original building and named it Chapel by the Sea. It has remained an interdenominational congregation ever since.
The first candlelight Christmas Eve service was held there in 1950. This has since become an annual island tradition, attracting people come from all over. (The service was cancelled in 2020 because of coronavirus safety concerns.) A highlight of Christmas Eve services past was the telling of the first Captiva Christmas. The story involves a family living on nearby Buck Key and a flute that could be heard across the water between the two islands. Lured by the flute, the family crossed over to Captiva so they could enjoy Christmas with other families—and so the first Christmas on Captiva began.
https://www.toti.com/2021/03/09/349600/a-beautiful-place-to-worship-a-history-of-captiva-s-chapel-by-the-sea