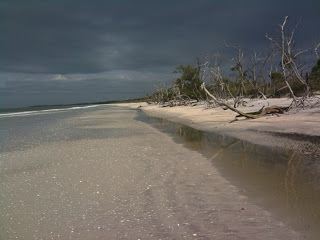 14 Dec

December at Cayo Costa – Low Tide
The week started with fog, and lots of it. This time of year we get convection fog, also called Sea fog. This always makes things fun on the water. Well, the fog cleared and wow, just stunning, the light for photography at sunset has been "perfect" . Great conversations were had about the Everglades, a trip I usually make once a year to explore the Glades, checking out spots that I have researched throught out the year. This is one of those trips where it is the Captain Brian's holiday. I always look forward to the Glades.
The wildlife has been unbelievibile, two days ago I saw seven Bald Eagles, two, I heard the distinct call before I saw them. There must be 600 white Pelicans between Captiva and Cayo Costa. Today the water was so clear, I could see a 5 foot shark in 6 feet of water. It reminded me of May, my favorite month. Things here on the Island are pretty slow, but certanily the wildlife knows nothing about that. Every day is a new day, you never know what you will see.